IV Regional Congress on Business Friendly Environment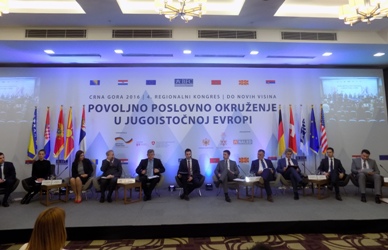 9 May 2016 – The Montenegrin accession to the BFC SEE program was announced at the IV Regional Congress on Business Friendly Environment, which was held today in Podgorica, organized by the Ministry of Finance and NALED in Serbia, with the support of GIZ Open Regional Fund for Modernization of Municipal Services. The meeting was attended by ministers of the region, mayors, mayors and business leaders from the region.
Capital City Podgorica, and municipalities Cetinje, Budva, Danilovgrad, Bijelo Polje and Žabljak will be the first Montenegrin local governments that will enter the Certification Program of municipalities harmonized by South East Europe (BFC SEE) economies and get a chance to improve the business climate in accordance with the best practices in the region and the EU and to be positioned on the investment map of Europe.
"We are very pleased that Montenegro joins the BFC SEE program as we continue to expand our network of local governments in which investors recognize as a reliable partners. Investors bring decision on investment considering the region as a single market and therefore, the strengthening of BFC SEE, doing all the states in this area more attractive to the global investment map, "said Mr.Christophe Di Marco, manager of GIZ Open Regional Fund, through which the governments of Germany and Switzerland support the BFC SEE.
Currently, more than 60 local governments in the region, improving the business environment through the BFC program, which offers a clear roadmap on how to achieve a high level of quality of services provided to enterprises and offer potential investors. Research by the method of mystery shopping showed that business conditions in the certified municipalities are for 76% higher than in other areas.
Of all the local governments in Serbia, Croatia, Bosnia and Hercegovina and Macedonia, which are on the Financial Times list of the best, 80% are certified to BFC SEE standard. The aim is that, through the BFC SEE program, and Montenegrin municipalities find their rightful place among the best in Europe.
The BFC SEE regional network includes 20institutions and organizations from Serbia, Croatia, BiH, Macedonia and Montenegro and contribute to the strengthening of regional cooperation and exchange – among them the relevant ministries, chambers of commerce, associations of municipalities, development agencies, NGOs and universities.