Mayors` Symposium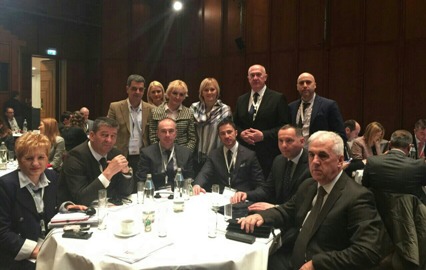 U Gracu (Austrija) se, u okviru Programa urbanog partnerstva Svjetske banke i Ministarstva finansija Austrije – faza II, 29.02 i 01.03 održava Simpozijum gradonačelnika.
In the framework of the Urban Partnership Program of the World Bank and the Ministry of Finance of Austria – Phase II, on 29.02 and 01.03 was held Mayors` Symposium in Graz (Austria).
The conference brought together over 150 representatives of local governments, NALAS, an association of local authorities and civil society representatives from South East Europe, who presented the progress and innovation of their cities, shared past experience in municipal finance, urban planning and land management, building integrity, social responsibilities and discuss the lessons learned and challenges ahead.
This was an opportunity for mayors, municipal leaders, other local government representatives and other representatives of the partners in this project to present results that have achieved in the field of reforms, using instruments that are developed under the first phase of the Urban Partnership Program, and also discussed the forthcoming steps to be implemented in the continued implementation of the Programme.
The main Symposium topic was "Joint governance for inclusive urban development in Southeast Europe", with a focus on municipal leadership, accountability and public participation in order to improve the quality of life of citizens. This was an opportunity to continue a constructive dialogue on how to strengthen the instruments of local government in municipal practice, in order to ensure their sustainability after the end of the program.
Symposium participants had the opportunity to hear the experiences of the host city in relation to the strategic urban planning, the city of Oklahoma when it comes to strategic leadership in transforming the city and experience the city of Vilnius in the transparency and integrity of local government.
The delegation of Montenegro were represented at the event by representatives of Old Royal Capital Cetinje and municipalities: Pljevlja, Niksic, Ulcinj, Kolasin, Tivat and Kotor, Ministry of Finance, MANS and the Union of Municipalities.
Mayor of the Municipality of Bijelo Polje, Mr.Aleksandar Zuric, and representative of the Ministry of Finance Ms.Gordana Radovic talked  about the experience of Montenegro when it comes to cooperation between central and local level  towards   local government reform, while the Mayor of Old Royal Capital Cetinje Mr.Aleksandar Bogdanovic talked about managing cities and demands for their transformation.